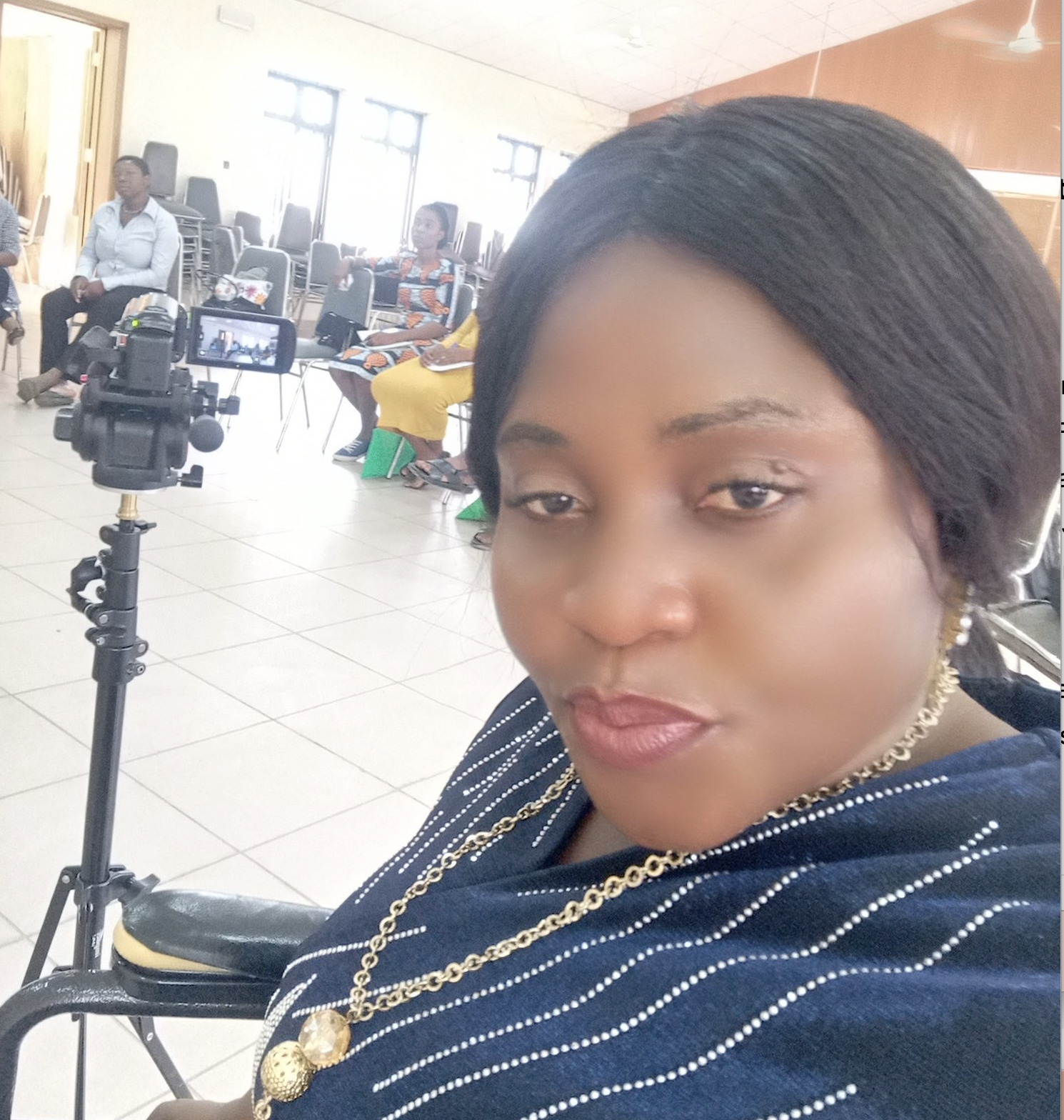 News
'A View From Somewhere'
Play audio version
DJP Staff, Partners, and Fellows Reflect on Two Years of "Taking Back the Narrative" on Disability
March 18, 2023
In late 2021, Nigerian disability rights activist Oluwabukolami Omolara Badmus was searching for new ways to tell stories. A state coordinator with the Lionheart Ability Leaders International Foundation, which serves persons with disabilities on the African continent, Badmus, who uses a wheelchair, was encouraged by the executive director to seek out journalism training with the Disability Justice Project (DJP). Long interested in reporting, she was eager to apply for a documentary storytelling fellowship with the DJP.
"Through the DJP, I was able to advance my advocacy level … for women with disabilities, most especially people with DeafBlindness," says Badmus from her home in Ibadan, a city in southwestern Nigeria. The project, she explains, afforded her a wide-reaching platform to "enlighten" Nigerians about the lives of persons with disabilities.
While a student at the University of Ibadan, Badmus had started working with the disabled community after meeting a DeafBlind man—now her boss—who'd communicated through a form of sign language known as "fingerspelling," or tactile sign language. Her work with the DJP has allowed her to convey a straightforward and vital message: People with DeafBlindness have not been provided "the adequate environment to be useful to themselves and to society."
Badmus emphasized that people with disabilities have a right to educational accommodations like learning materials in Braille and sign language interpreters. Using her media training and traveling with a camera around Lagos, a major African city near the Atlantic coast, Badmus documented the obstacles to education faced by DeafBlind students. "These people can amount to something, they can become something in life if we give them access to education," she says. 
How the DJP Started – a 'View from Somewhere'
The genesis of the Disability Justice Project, which today reaches four African countries and Indonesia, dates back to 2010, when then-Springfield College professor and documentary filmmaker Jody Santos learned her three-year-old son was autistic. "That was when I first became involved with disability rights. When he was diagnosed, I didn't even know what 'autism spectrum' meant," says Santos, the editor-in-chief of the DJP and now an associate teaching professor at Northeastern University. As Santos began searching for accommodations for her son, she discovered both the obstacles and stigma faced by persons with autism.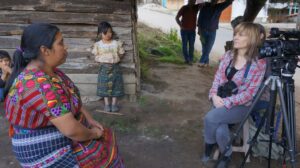 By 2015, she was working on a two-part documentary special for PBS on efforts to end the forced institutionalization of disabled children abroad. Today, she is somewhat critical of her work, saying the documentary exhibited "white saviorism" instead of providing agency to persons with disabilities. In researching other possible documentary topics related to disability, Santos met Diana Samarasan, the founding executive director of the Disability Rights Fund (DRF), a participatory grantmaking NGO focused on organizations of persons with disabilities (OPDs) in the Global South. "We were looking for strategic partners … who would amplify the work of [DRF] grantees," says Samarasan. "It took quite some time to build the collaboration and figure out how it would function," she says.
Through a 12-week virtual program, the DJP, in partnership with the DRF, provides training to grantees via a "fellowship model" that pairs disability activists/fellows with seasoned reporters. Santos and other journalists provide instruction on video production and rights-based reporting techniques so that persons with disabilities can report on their own communities. The DJP's unofficial motto is "a view from somewhere," says Santos, meaning the lived experiences of persons with disabilities are embraced rather than rejected as part of outdated notions of journalistic neutrality. According to its "About" page, the DJP seeks to "build a sustainable media network of persons with disabilities, with collaborators from all over the world."
DRF, from the very beginning, was about changing the narrative on disability.

Diana Samarasan, Founding Executive Director, DRF
The United Nations Development Programme states that 80 percent of persons with disabilities live in the Global South. At least 15 percent of the world's population lives with a disability, making this community "the world's largest minority." Samarasan notes that persons with disabilities also "make up a disproportionate number of the people who live in poverty." She saw the DJP as a prime opportunity to help "fill the gap" between persons with disabilities and their ability to tell their own stories. "DRF, from the very beginning, was about changing the narrative on disability," she says.
For her part, Santos felt a need to "get out of the middle" of the story and give the disabled community direct access to storytelling tools. During the pandemic, Santos collaborated with DRF to ship camera equipment overseas and conduct virtual media lessons with people in Rwanda, Malawi, Nigeria, and Uganda. The DJP also hopes to make newsrooms across the country more inclusive of (and accessible to) people with disabilities. "You're never done trying to be an inclusive organization," says Santos.
Describing the current state of journalism, Santos says that reporting too often oscillates between treating disabled persons as objects of pity or inspiration. In most cases, newsrooms do not track the number of employed persons with disabilities as part of their diversity efforts. Santos urges reporters to be cognizant of their own "inherent biases" when reporting on disability. 
Mentors Support Fellows in Telling Their Own Stories
Mike Beaudet, an investigative reporter with WCVB-TV in Boston and a professor of the practice at Northeastern, has mentored three DJP fellows. Beaudet is no stranger to stories involving persons with disabilities, reporting on difficulties faced by disabled persons during the pandemic and a controversial "shock treatment" at the Judge Rotenberg Center in Canton, Mass., a day and residential school for persons with developmental disabilities that has been targeted by Congress and condemned by critics for "torturing" residents.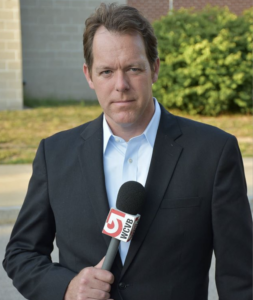 He says his involvement with the DJP has helped him to reconfigure preconceived notions about disability. The key, Beaudet explains, is working in tandem with story subjects, allowing them a say in the reporting process. "It's helped me understand how important it is to allow people to tell their own stories," he says.
In perhaps their biggest validation to date, the DJP staff recently received two gold Anthem Awards, which celebrate purpose- and mission-driven work as a way to spark global change. From nearly 2000 entries across 43 countries, the DJP's award-winning documentaries were featured along with media from Mother Jones, ITVS, and Human Rights Watch. Presented by The Webby Awards, judges included Tarana Burke, Ashley Judd, and The Atlantic CEO Nicholas Thompson.
Ryan Di Corpo is an associate editor with the Disability Justice Project. His work has appeared in The Washington Post, America, Boston College Magazine, Fordham News, and WCVB/Channel 5.
News
From the Global Frontlines of Disability Justice