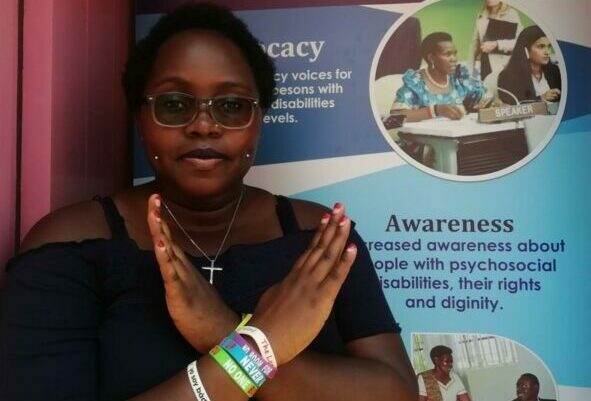 News
Asking for Help Doesn't Make You Weak
Play audio version
DJP Fellow Esther Suubi Talks About Her Depression Relapse to Raise Awareness and Build Hope
June 10, 2022
JINJA, Uganda — Living with psychosocial disabilities is challenging when the society you live in does not consider them disabilities. I was diagnosed with depression in 2015 after first experiencing symptoms eight years ago. I have found it challenging explaining to some family members and friends that I have depression and anxiety. They would say I was being dramatic, lazy, and an attention seeker, among other things. Such labels would leave me confused. I wondered, Would they tell that to a person with cancer?
I just recovered from another depression relapse, which was induced by many triggers, including hormonal imbalance, financial stress, and negative self-focus. At least I am still alive, even after another suicide attempt. My survival makes me believe I am still here for a reason! During my relapse, I faced many physical and emotional challenges. I experienced joint pains, making it difficult to walk unless I supported myself with a walking stick. I also experienced an irritating rash on my skin due to stress. I felt very hopeless and sad, thinking I was a burden to my family because I lost much of my appetite for three weeks. I reflected on my life and wished I didn't exist. I didn't see any future no matter how much I tried.
The American Psychiatric Association says depression occurs when someone is sad, loses interest in activities they once enjoyed, or when they experience other negative emotions. People forget that a person who is sad can still smile at everyone and hide their feelings. To be honest, I can differentiate between my own genuine and fake smile. Many of my friends and acquaintances say I am confident and lively. Hardly do they know that my eyeglasses are confidence boosters; without them, I wouldn't look people in the eye because of my low self-esteem. I practiced my fake smile until it became perfect enough to hide my emotions.
To recover from my relapse, I had to leave my workplace and go home because the more I stayed at work, the worse I felt. I would spend whole days and nights in bed. At night, I struggled to get enough sleep. A doctor told me it was insomnia. When I finally fell asleep, most people were waking up and preparing for a new day. I had to talk to my parents, who have been of help to date. My psychiatrist has been supportive since my diagnosis, too. Asking for help didn't make me weak. It made me strong.
I wrote this essay to let you know that you are not alone in going through depression. We are many. Don't give up and take your own life. After a failed suicide attempt, I lost my favorite dog, Taffy, a loss that hurt me badly. One of my friends told me that I was experiencing the same grief my loved ones would have felt had I taken my own life.
According to Verywell Mind, an online mental health resource reviewed by board-certified physicians and mental health experts, reaching out to trusted ones for support during periods of depression can be helpful. I encourage you to start something new like reading a novel, crocheting, plaiting hair, etc. Take walks and listen to music with positive messages. Don't listen to sad music; it made me feel even worse.
I usually tell my friends that if they are depressed and need someone to talk to, I am willing to listen because a problem shared is a problem half solved. I cannot judge them because we are all human beings, and no one is perfect. As I usually say, "Perfection is my enemy." Remember that living with psychosocial disabilities doesn't make you less human but a unique person! Knowing this keeps me going and helps with my recovery. Don't be hard on yourself. Recovery takes time.
For suicide prevention resources in the United States, go to SpeakingOfSuicide.com/resources. Go here for resources outside the U.S.
Esther Suubi is a 2021 fellow with the Disability Justice Project and a peer educator with Triumph Mental Health Support.@2022 TRIUMPH Uganda. All rights reserved.
News
From the Global Frontlines of Disability Justice