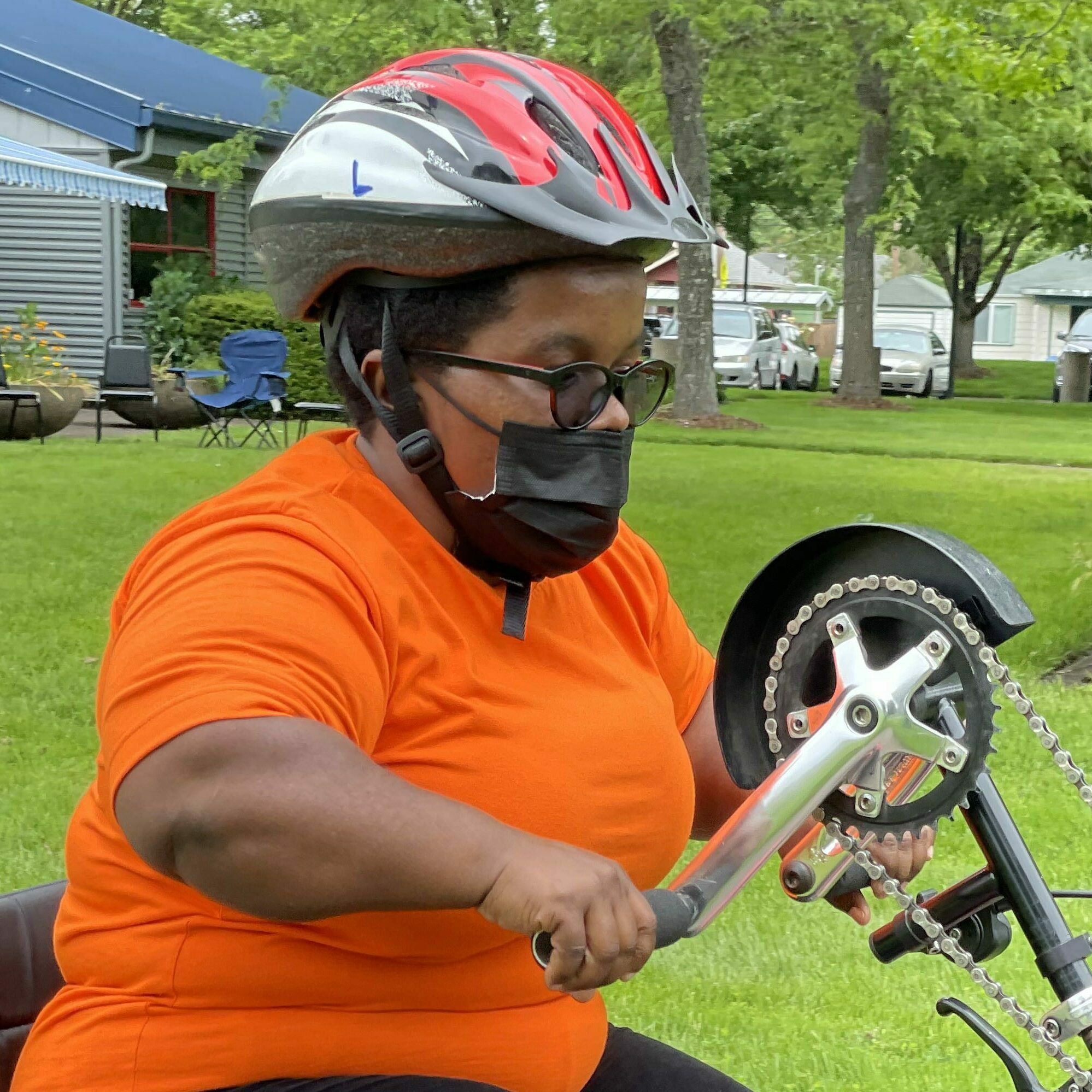 News
Creating an Inclusive World
Play audio version
Inspired by the UNCRPD, DJP Fellow Esther Mukampogazi Has Been an Advocate for Accessibility and Inclusion Since Her Early Days in College
October 3, 2022
KIGALI, Rwanda – Disability Rights Project Fellow Esther Mukampogazi was born on New Year's Day 1987 in the Ruhango District in the Southern Province of Rwanda.
Growing up in Rwanda as a person with dwarfism, she encountered rejection, both from her family and at school. Her siblings wouldn't acknowledge her, and the bullying at school was so intense that she dropped out of primary school. Fortunately, her mother was a strong force who made sure that Mukampogazi received an education. She gave Mukampogazi an ultimatum: If you want to be part of this family, you must go to school. Mukampogazi re-entered school with a determination to prove she was capable, meeting challenges and pushing boundaries to achieve her goal. She is the only one among her six siblings to obtain a college degree, which led them to have a newfound admiration for her.
College was pivotal for Mukampogazi. There she learned about the United Nations Convention on the Rights of Persons with Disabilities (UNCRPD). Adopted in 2006, the UNCRPD is an international treaty that identifies the rights of disabled people and participating countries' obligations to promote, protect, and ensure those rights. With this new knowledge, Mukampogazi felt empowered to advocate for a more accessible campus for herself and other students, beginning with getting the shower tap lowered so that she could shower independently.
Mukampogazi began volunteering as a lead youth disability advocate at UWEZO, a youth empowerment organization based in Rwanda. There she educated youth and families about their right to safety and how to get their needs met through self-advocacy. Mukampogazi is proud of the changes she brought about both on her campus and at other schools through UWEZO, including accessible showers, bathrooms, and ramps, and new wheelchairs for students who needed them.
Mukampogazi sought an internship while at college but found that the organizations she approached could not accommodate her need for an accessible chair and table. She was encouraged to approach organizations serving persons with disabilities and landed an internship with the Rwanda Union of Little People in 2017. After completing her internship, she was asked to stay on and then recruited by the Organization of Women with Disabilities for Health Promotion and Development in Rwanda (OWDHD).
Now a project manager at this small organization, Mukampogazi is called on to use her many skills to write proposals, implement projects, compile reports, use social media to highlight the organization's work, and keep an eye out for other needs within OWDHD. With her degree in communications and journalism from the University of Rwanda, Mukampogazi is looking forward to improving her media skills as a DJP Fellow to promote the vision of OWDHD. That vision is focused on the health and sustainable development of women with disabilities, social inclusion, empowerment through vocational training, educational leadership, entrepreneurship, and advocacy.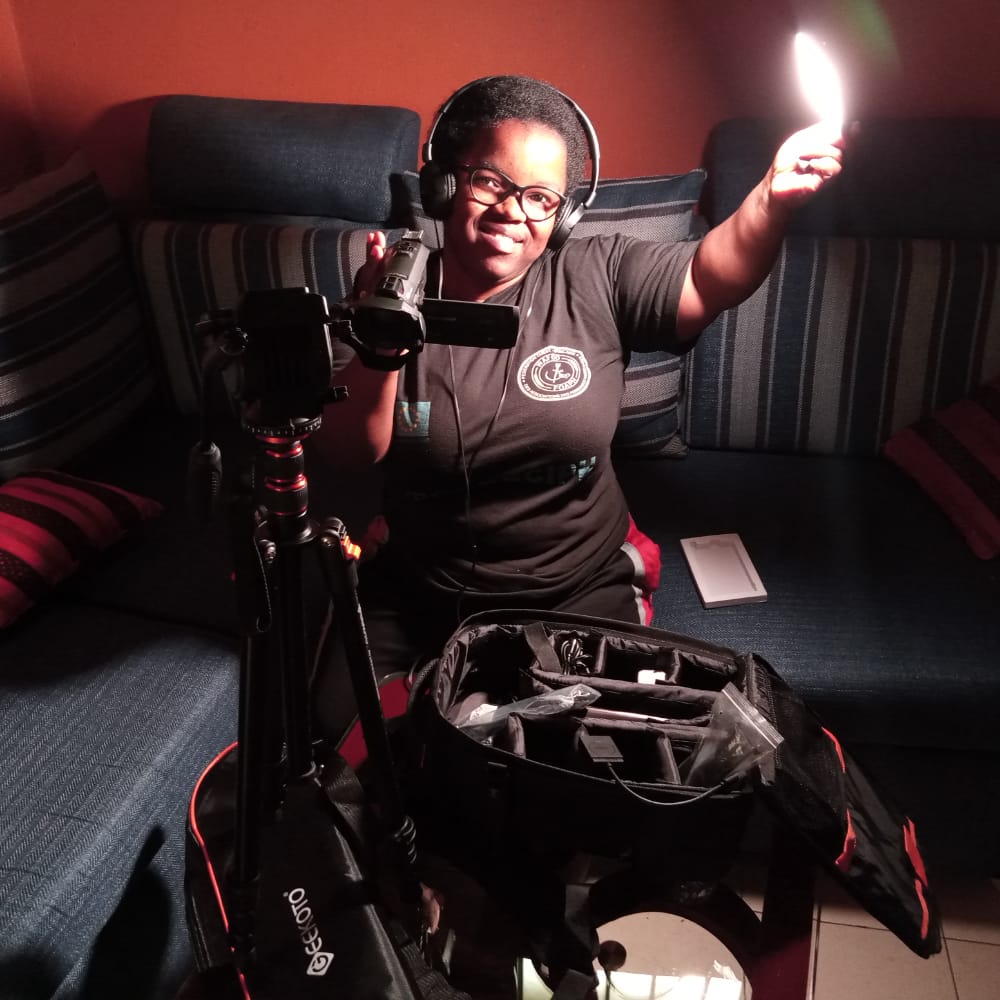 Mukampogazi was recently asked to share her experiences of being a person with a disability in Rwanda at a community meeting in the Musanze District of the Northern Province. She spoke about the need for increased disability awareness and for the safeguarding of children with disabilities. She was met with such enthusiasm that she delayed her return home by several hours. Attendees shared their concerns about the level of gender-based sexual violence in their community. Some also spoke of being abandoned by their husbands after giving birth to children with disabilities. Mukampogazi noted that people with disabilities (and their families) need an opportunity to express their feelings and receive assistance advocating for social inclusion and safety in their communities.
Experiences shared with other people with disabilities bring Mukampogazi joy. She fondly remembers attending The Women's Institute on Leadership and Disability's training in the United States, learning about policy, legislation, inclusive education, recreation, development, safety/self-defense, and developing relationships with partner organizations. Especially fun was participating in adaptive sports and fitness activities.
As a lifelong learner, Mukampogazi hopes to further her education in disability rights, studying for an advanced degree at a university outside of Rwanda. She hopes to one day work for an international organization advocating for the rights of persons with disabilities. Mukampogazi is a passionate disability and gender activist fighting for the rights and development of people with disabilities. As she says about herself "I am a woman who fights for change."
Emily Acker Quintana is a regular contributor to the Disability Justice Project. She is a former associate producer with the Visionaries public television series. @2022 DJP. All rights reserved.
News
From the Global Frontlines of Disability Justice