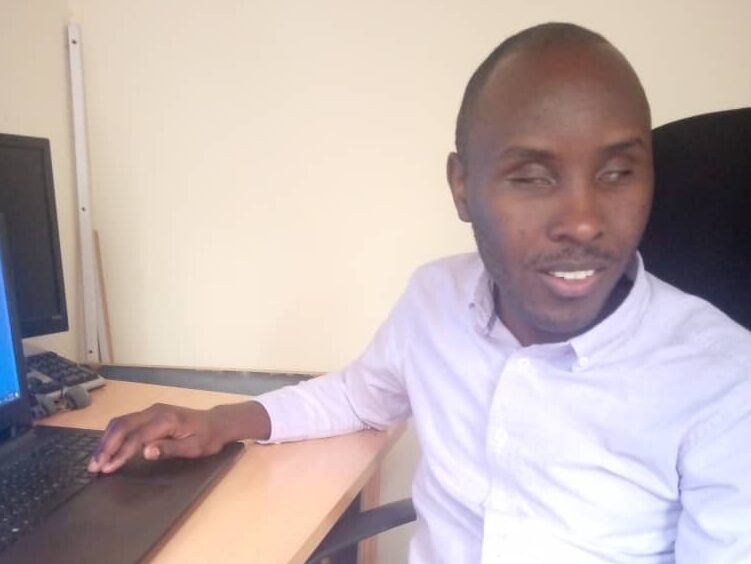 News
'It was not an easy journey, but I made it'
Play audio version
Attorney Jean Claude Ngabonziza and His Work in Disability Rights in Rwanda
September 22, 2021
*** Content warning regarding genocide
KIGALI, Rwanda — Jean Claude Ngabonziza was only four years old when the 1994 Rwandan genocide began. Ngabonziza describes what he thinks he knew was happening at the start of the genocide. "… I could see that everyone was so worried," he says. "My mother kept us in the house and was always praying and crying. They could not let us out to play, and my dad was no longer going to the fields. I was young, but I believe I was scared, too."
After a period of hiding and trying to survive, Ngabonziza and his family were bombarded with grenades that left him with blindness. His mother, the only other surviving family member, enrolled him in HVP (Home of Virgin of the Poor), a school for children with disabilities in Gatagara, and later the Gahini Secondary School after the genocide.
Today, Jean Claude Ngabonziza is a lawyer working with UWEZO Youth Empowerment, an organization supporting youth with disabilities. UWEZO Youth Empowerment is under the umbrella cohort of the National Union of Disability Organizations of Rwanda. Since graduating from the School of Law at the University of Rwanda-Huye Campus with academic distinction, he has worked with many organizations, especially those supporting youth with disabilities. "It was not an easy journey but I made it," Ngabonziza says. Since 2012, he has been a member of the Rwandan Union of the Blind, where he has been advocating for access to white canes for Rwandans with vision impairments.
Ngabonziza was born in 1990. Both his parents were farmers. He was raised in Kigali, in the Gasabo District and Ndera Sector. He says his family had a lot of expectations for him as their firstborn and only son in his nuclear family. He is grateful to his mother, especially for the role she played in his educational journey. Ngabonziza says, "If it was not for my mother who, instead of keeping me in the backyard, chose to take me to school, which was not an easy task for her with all the difficulties and poverty that was there after the [genocide]. She was having her own problems of trauma and post-war issues of losing her husband and family, but she fought for her son. I cannot thank her enough."
When asked what makes him thrive, he says, "I do not limit myself. I try everything that I can do, put in more work than others. I make sure that I am satisfied with my work, which is not an easy task to achieve."
Rose Umutesi is a 2021 DJP Fellow and chairperson of the National Organization of Users and Survivors of Psychiatry in Rwanda (NOUSPR) and co-founder and treasurer of its umbrella organization, the National Union of Disabilities Organizations of Rwanda (NUDOR). @2021 NOUSPR. All rights reserved.
News
From the Global Frontlines of Disability Justice