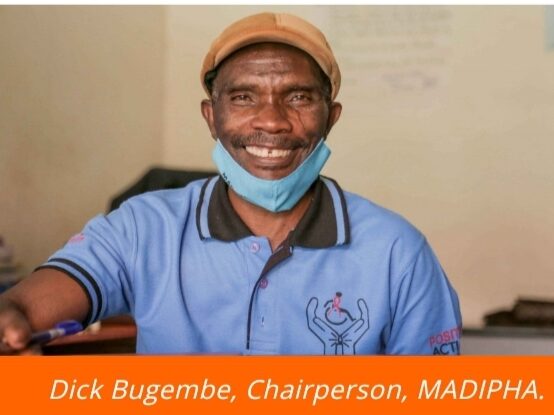 News
Leaving No One Behind
Play audio version
Dick Bugembe Fights for Equal Access to HIV/AIDS Services and Information
November 4, 2021
MASAKA, Uganda — Fifty-eight years ago, Dick Bugembe was born with a symbrachydactyly, a rare congenital condition in which a person has short fingers that may be webbed or joined. Because of damage to his nervous system, his gait was also unsteady. As a young child with a disability, Bugembe wasn't afraid to pursue his dreams, and he grew up to become a politician in Uganda and also the founding member of the Masaka Association of Disabled Persons Living with HIV & AIDS (MADIPHA).
When Bugembe was first diagnosed with HIV/AIDS in 2009, he thought of it as a death sentence. "I lost hope because I thought I was the only one with HIV and at the same time living with a disability," he says. "I thought I was about to die and perish very soon." Like others in his village, Bugembe had the misconception that people with disabilities couldn't get infected with HIV. He was deeply affected after taking several tests and finding out that he was indeed HIV positive. He could not imagine going through the rest of his life swallowing antiretroviral drugs and undergoing antiretroviral therapy. "I met a number of doctors and therapists who gave me different counseling sessions and real-life lessons that helped me retrieve my sense of knowledge and understanding of life living with HIV," he says.
HIV stands for "human immunodeficiency virus" – the virus that causes AIDS and interferes with the body's ability to fight infections. The virus can be transmitted through contact with infected blood, semen, or virginal fluids. Bugembe explains that "at that time, people with disabilities living with HIV were not known, as a few of them were being silently stigmatized and discriminated. From the training with my counselors, I knew that time does not heal anything. It's how we deal with that time that determines the speed at which we heal." Bugembe obtained a job at The AIDS Support Organization (TASO), an indigenous HIV and AIDS service initiative registered in Uganda as a non-governmental organization. This is when he came up with the idea to create awareness that people with disabilities can contract HIV/AIDS and that everyone should be vigilant and take a blood test for HIV.
While at TASO, Bugembe says," I noticed a number of people living with disabilities and HIV approaching the health centers seeking HIV services and information. Some of these patients had difficulty in walking that made it so inconveniencing to move to the health center for HIV/AIDS services and information because the infrastructures were physically inaccessible." Bugembe also noticed a lack of sign language interpreters and a lack of communications in formats such as Braille, audio, or plain languages. This made it difficult for patients who were Deaf or blind or had intellectual disabilities to access life-saving information and services. For all of these reasons, he decided to form MADIPHA in 2009.
Since then, Bugembe has been the chairperson of MADIPHA, an association based in the Masaka District of Uganda. MADIPHA's mission is to create a society where all people with disabilities living with HIV/AIDS have equal and timely access to adequate HIV/AIDS information and services without discrimination.
MADIPHA has worked with people with disabilities, HIV service providers, organizations of persons with disabilities (OPDs), and local leaders, specifically targeting people with disabilities affected by HIV/AIDS in the greater Masaka sub-region. MADIPHA typically delivers integrated programs using the following approaches: communicating the disability and HIV/AIDS paradox, social livelihood and economic empowerment, and human rights through advocacy and collaboration.
The UN Convention on the Rights of Persons with Disabilities (CRPD) ratified by Uganda in September 2008 estimates that, worldwide, at least 4 out of every 25 persons have disabilities. Applying this estimate to Uganda's population of approximately 34 million, an estimated 5.4 million people with disabilities are living in Uganda. In terms of HIV/AIDS rates, UNAIDS data estimates 1.5 million Ugandans are living with HIV, and in 2019 there were 53,000 new infections and 21,000 AIDS-related deaths. Bugembe and his counterparts from the sub-region of the Masaka District intend to continue to fight the spread of HIV among people with disabilities. "When it comes to fighting HIV/AIDS," he says, "no one should be left behind because we are all potential victims of disability and HIV/AIDS."
The UNAIDS 2016-2021 strategy calls for fast-tracking the worldwide HIV response and reaching those people who are being left behind. The strategy highlights the bold effort needed to reach the 90-90-90 targets, which aim to bring HIV testing and treatment to the vast majority of people living with HIV and to reduce the amount of HIV in their bodies to undetectable levels. Among other suggestions, the report says that reaching this goal will require zero discrimination, a person-centered response, and equal access to health programs and services, including sexual and reproductive health.
Nissy Namuyomba is a 2021 DJP Fellow and an administrative assistant at MADIPHA. @2021 MADIPHA. All rights reserved.
News
From the Global Frontlines of Disability Justice