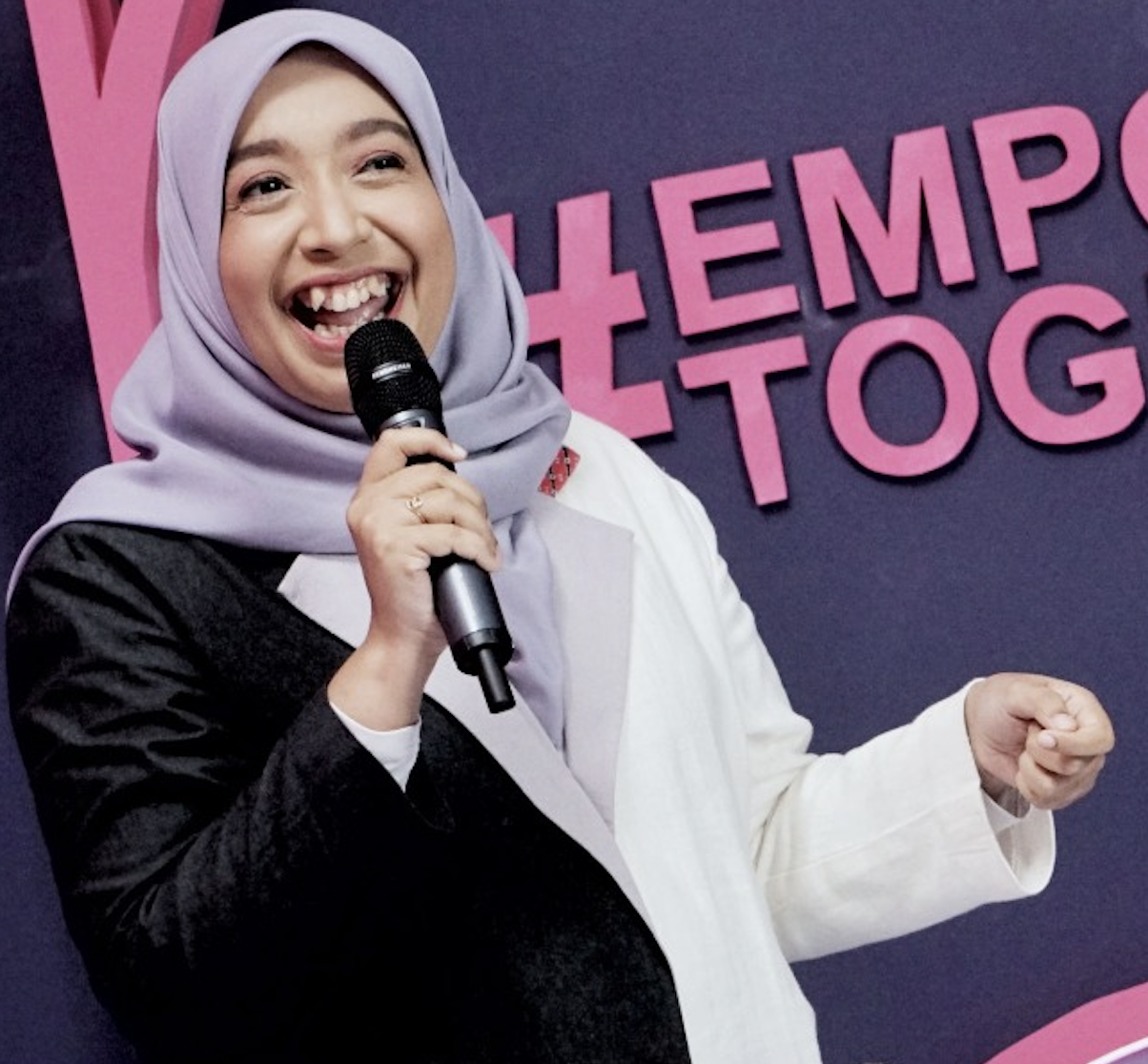 News
The Language of Comedy
Play audio version
Indonesia's First Muslim Female Stand-Up Comic Sakdiyah Ma'ruf: At the Intersection of Interpretation and Comedy
May 9, 2022
When asked about her work as an interpreter and comedian and the influences that brought her to both industries, Sakdiyah Ma'ruf simply says, "I've always had something to say."
Born in a small town in Central Java, Indonesia, Ma'ruf grew up in a conservative Muslim community before eventually studying English literature at Sebelas Maret University. She began volunteering at smaller events, such as disaster relief efforts, as a language interpreter. After completing her master's thesis at Gadjah Mada University on the subject of stand-up comedy, she graduated in 2015 and found work as an in-house, full-time interpreter with a children's rights organization, Yayasan KAKAK (KAKAK Foundation). "I was never far away from topics related to human rights and social issues and advocacy," she says.
Ma'ruf was recently hired to work as an interpreter and instructor with the Disability Justice Project's first cohort of Indonesian fellows. As a language interpreter, she works to build bridges and connect people. In the midst of those connections, she finds deep satisfaction and joy in her work. She admits that it can be challenging, but the work is fulfilling, especially when she is able to help two or more parties in achieving their goals. Connection and communication are important to her. She counts herself fortunate that both her work as an interpreter and as a comedian share those commonalities: "I'm first and foremost interested in comedy because of the language. I thought it sounds like poetry even, where it is well-crafted."
Ma'ruf was exposed to comedy at a young age. She grew up watching the likes of traditional Javanese comedies as well as sitcoms from the West. She turned to comedy after witnessing domestic and sexual violence against women and girls in her community. "I thought, 'Well, somebody has to say something about this.' Comedy is not only about walking funny or making a funny face. It's a medium where you can actually talk about the issues that you think are important to you," says Maruf. She gave stand-up a try in 2015, resolving to try it once and quit if she became embarrassed. Ma'ruf is now hailed as Indonesia's first Muslim female stand-up comedian.
Ma'ruf has performed at TEDxUbud, Sydney Ideas at the University of Sydney, and Kompas TV, a national private news television network in Indonesia. In 2018, she was named one of BBC's 100 Women 2018, highlighting her work and her use of comedy "as a way to challenge Islamic extremism and violence against women." While comedy is performance art, one that involves frequently standing on a stage in front of audiences that may or may not laugh, Ma'ruf finds sanctuary in her work as an interpreter. "It's a perfect balance," she says. "I found a place where I could just be and just work without worrying about whether it's going to work or not. As long as I'm well prepared and the technology works, then it will be 90 percent to 95 percent guaranteed that [language interpretation] will work."
In both areas of her work, Ma'ruf strives to be a human rights and social justice advocate. She expresses excitement about the 12-week Disability Justice Project (DJP) workshop she started with the fellows this week, citing the combination of social justice, storytelling, and language as motivation for her involvement with the DJP. "It's a rare opportunity to delve into a topic for 12 weeks intensively. Twelve weeks in a row is such a rare, rare opportunity because even if I've been working on an issue as an interpreter for quite a long time, I've never had the opportunity to do 12 weeks straight," she says. "I'm very much looking forward to remaining invisible, but at the same time being engaged with the journey of the participants."
Her partnership with the DJP will allow her to delve deeper into the global disability justice movement: "It's humbling for me to be able to learn from a movement that is so complex and yet so strong in terms of … its advocacy and humanity. I'm truly blessed to be able to work with the DJP."
Claire Joy Moss is the Communications/Social Media Manager at the Disability Justice Project.
News
From the Global Frontlines of Disability Justice