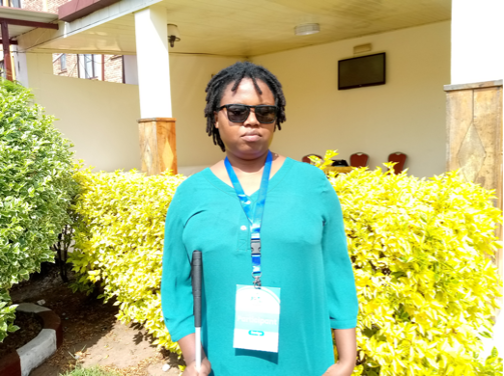 News
'We Live in Our Own World'
Play audio version
Rwanda's DeafBlind Community Advocates for Inclusive Education and Healthcare
November 9, 2023
In Rwanda, as in many countries, individuals with disabilities, particularly those in the DeafBlind community, face significant challenges in accessing healthcare and education due to communication barriers. These barriers not only impact their educational and employment opportunities but also their ability to navigate the healthcare system. Without inclusive healthcare and educational systems, Rwandans with DeafBlindness often struggle to receive the support they need.
One such individual is Naomi Uwizeyimana. "Not all persons know sign languages or tactile sign languages to communicate what you want to say," she says. "You need a person to help you to communicate everywhere you go and to get every service you want, which cannot always be possible."
According to World Federation of the Deafblind, individuals with DeafBlindness make up a relatively small percentage of the global population, ranging from 0.2 to 2 percent. Due to their relatively small numbers and a common lack of understanding about their disability, people with DeafBlindness face challenges in accessing the necessary support systems. As a result, they are more likely to experience unemployment and live in poverty.
People who are DeafBlind have a combination of vision and hearing loss but are not necessarily completely blind or Deaf. They use various forms of communication, including spoken language and sign language interpretation (SLI). Uwizeyimana relies on tactile sign language, a practice that feels words through the hands – and a form of communication relatively unknown to those outside the DeafBlind community.
According to Top African News, most curricula in Rwanda use spoken or sign language as the primary means of communication in classrooms. Additionally, these educational systems rely heavily on written or sight-based materials, which often prove inaccessible to the DeafBlind community. "It seems like we have no right on technology because there are no assistive devices that can benefit persons with DeafBlindness," says Uwizeyimana, referring to the lack of adaptive learning resources like Braille books, tactile graphics, and other materials.
Mathilde Mukandinda, a mother of three children who are DeafBlind due to a genetic condition, has experienced considerable difficulty in finding educational resources for her sons and daughter. Her children, born Deaf, initially attended primary schools for the Deaf but later developed low vision, leading to blindness. As they progressed to high school, she faced challenges in securing academic resources to support her children's continued education. "I and their father are in charge of everything for them to live," says Mukandinda. "We assist them everywhere that we cannot do anything like business."
Joseph Musabyimana, executive director of the Rwanda Organization of Persons with Deaf-Blindness (ROPDB), underscores the absence of inclusive schools in Rwanda for individuals with DeafBlindness. While there are provisions for those who are Deaf with low vision and those who are blind and hard of hearing, there is no tailored education system for those with total DeafBlindness.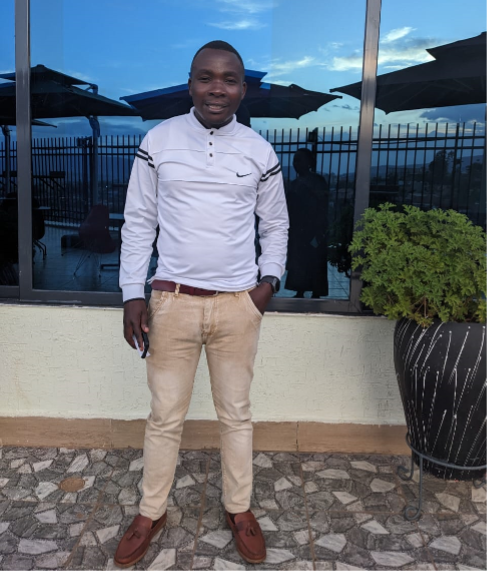 "We have identified about 200 persons with this disability in five districts," says Musabyimana, "but no curriculum or any education system … [for persons with DeafBlindness] who are willing to go to schools, as we are not recognized as another type of disability in the education system."
Musabyimana further explains that DeafBlind Rwandans not only encounter barriers in accessing education but also in obtaining healthcare. Medical practitioners in Rwanda are rarely proficient in tactile sign language, making it challenging for DeafBlind patients to articulate their symptoms or comprehend their diagnoses and treatment plans.
According to Musabyimana, individuals with DeafBlindness often require a translator to communicate with healthcare providers, which can infringe on their privacy. Feeling uncomfortable disclosing personal information with a third party present, DeafBlind individuals may be misdiagnosed or reluctant to share critical concerns.
Another complication arises from within DeafBlind individuals' own families. Musabyimana reports that some DeafBlind individuals experience neglect within their households. "Remember that their families might be poor, and to care for persons [with DeafBlindness] they sometimes need to leave them alone at home," he says, "which causes additional health issues, mental or physical; hence [they can develop] a new type of disability."
Naomi Uwizeyimana, Mathilde Mukandinda, and Joseph Musabyimana share a common vision for improving accessibility for individuals with DeafBlindness. They advocate for the integration of assistive technology in classrooms and the inclusion of tactile sign language within Rwanda's education and healthcare systems. As Uwizeyimana succinctly puts it, "We live in our own world," and their shared mission is to bridge the gaps and support the DeafBlind community to fully participate in society, breaking down one barrier at a time.
Francine Uwayisaba is a contributing writer with the Disability Justice Project and a field officer at Rwanda Union of Little People (RULP). At RULP, she is in charge of the organization's communications. She writes grants, manages RULP's social media, and composes articles and weekly updates for the website. @2023 DJP. All rights reserved.
Editing and research assistance by Jody Santos and Maureen Lynch
News
From the Global Frontlines of Disability Justice