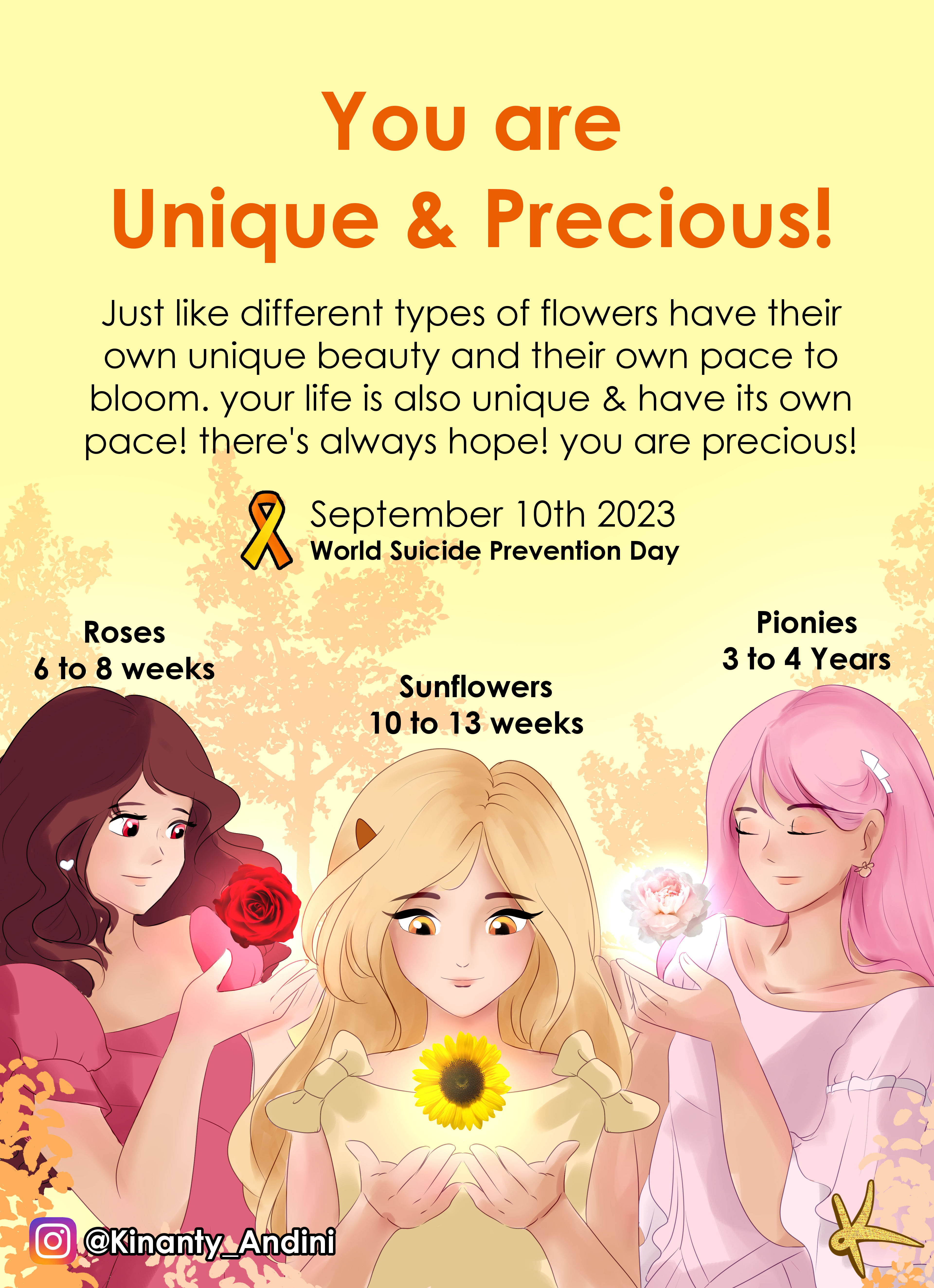 News
Art vs. Stigma 
Play audio version
DJP Fellows Advocate for Mental Health Awareness through Creative Expression
October 18, 2023
*This article covers the topic of suicide.
Disability Justice Project Fellows Esther Suubi and Kinanty Andini both advocate for the rights of persons with psychosocial disabilities through their art and filmmaking, working to create a world free from stigma and discrimination against people with psychosocial disabilities. The two were very active on social media in September, which was Suicide Prevention Month.
"I wanted to make something, to create something, that made people stop scrolling for a while," says Andini, "so when they scroll through their Instagram feed, I hope that they will stop and see my art, and eventually read what's on the art."
At the start of the month, Kinanty created a post for World Suicide Prevention Day depicting women holding flowers that represented different phases in a person's life after a suicide attempt. She has received a lot of great feedback on it. The post, she states, was inspired by how she views happiness, and how she believes everyone's journey is unique.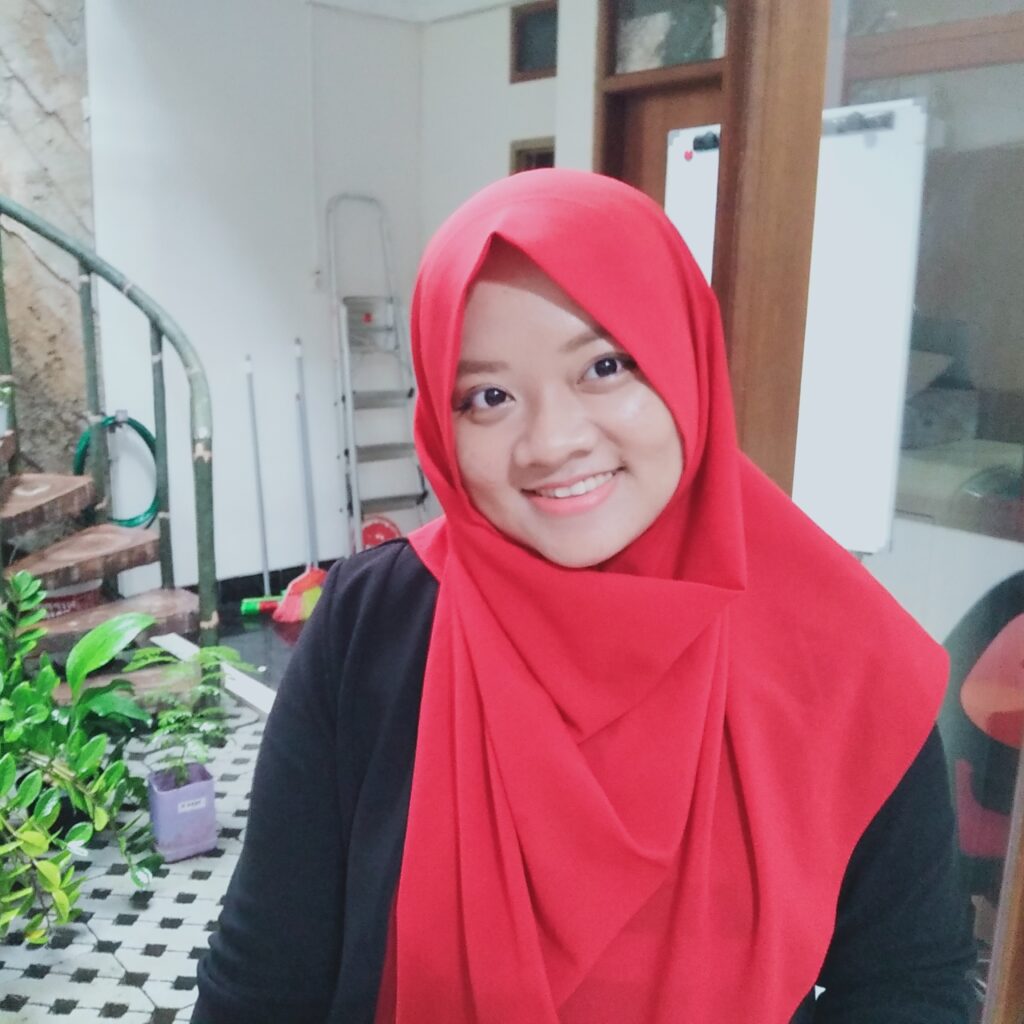 "I hope through my art that people who are having suicidal thoughts, they will know that they are actually very valuable," says Andini. "I want people with suicidal thoughts to understand that, like different flowers, different flowers have their own pace to bloom. And happiness also has different paces to bloom. … If you look at other people, and go, 'Oh, yes, … I see them enjoying their lives, why am I not feeling the same?,' it's not that you don't have happiness at all. The time that happiness comes for people is different."
For Andini, a graphic designer from Indonesia, advocacy work is about challenging negative assumptions about people with psychosocial disabilities. She uses her talents as a digital artist to connect with audiences and spread awareness. "People with psychosocial disabilities are among the most stigmatized out of all disabilities," she says. "In society, and you know, even the people with psychosocial disabilities themselves often stigmatize themselves. In my country, they are consumed by stigma. They believe in stigma, so they stigmatize themselves."
Andini's advocacy work has led her to collaborate with several organizations in Indonesia looking to support persons with psychosocial disabilities. She has worked with the Indonesian Mental Health Association (IMHA), helping to create a short film titled "What's Wrong with Mental Disability." She also worked with the Disability Justice Project on illustrations for several articles and was featured in a video by the organization.
All of her art, according to Andini, stems from her school days, where she used her creativity as a coping mechanism to get through her isolation. "I've loved to draw since I was a toddler," she says. "But my loneliness in high school that was caused by the stigmas my friends gave me is the reason that shaped my art."
Andini recounts how she felt isolated because many of her peers refused to approach her or interact with her. "There were times when I had suicidal thoughts," she says. "I wanted to end my life. … I was wondering and questioning myself over and over back then, you know, 'What am I living for?' That was a very hard time."
Suubi was also active on social media last month, using her platforms to spread awareness for Suicide Prevention Month. She posted an image of a tattoo she has of the word "breathe" enclosed by blooming flowers attached to their stems. She also posted another image of her tattoo that depicts the word "continue" with the "i" in the shape of a semicolon, representing the continuation of life after a suicide attempt. The posts were meant to remind viewers to reach out to loved ones who may be struggling with thoughts of suicide.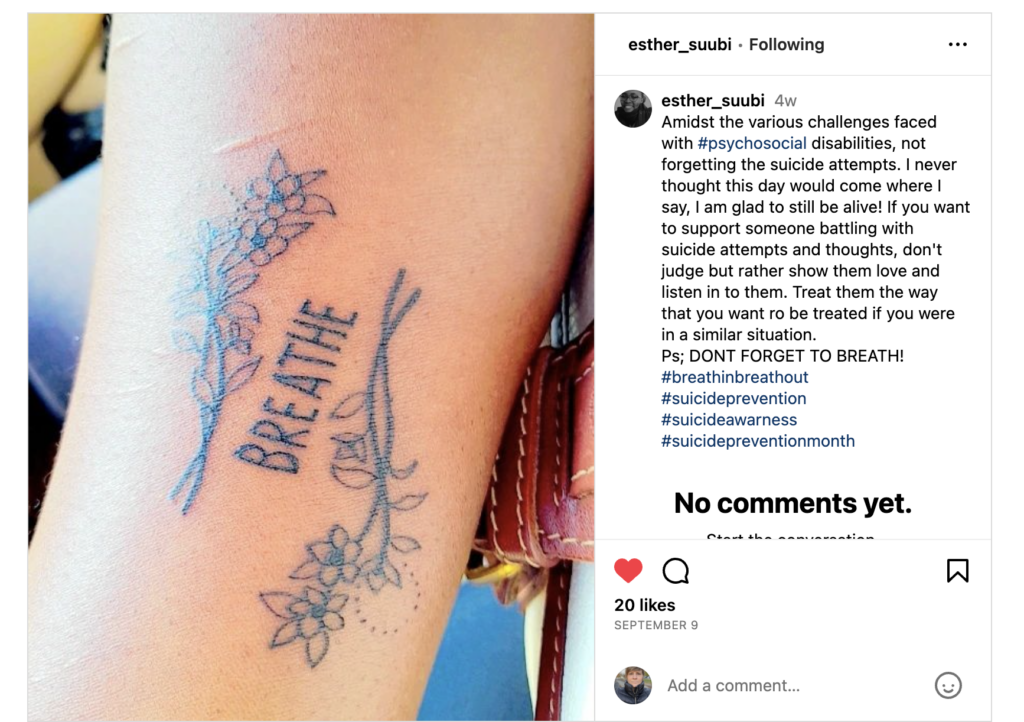 More than 700,000 people around the world die by suicide each year. Even more have made suicide attempts. According to the Australian Institute of Health and Welfare, people with psychosocial disabilities are nine times more likely to die by suicide than the general population.
"Why I still advocate and why I always share my story is because I'm a person who's attempted suicide various times, in various ways," says Suubi. "And for some reason, it never went through. I did the best I thought I could and it never went through. So, I'm like, 'Okay, I guess there is a reason why I'm still alive. If all these attempts have failed, let me know how best I can support somebody else who can be going through a much worse situation."
Suubi, a native of Uganda, has faced stigma surrounding her disability for most of her life. She was diagnosed with major depressive disorder, as well as bipolar disorder, as an adolescent. She remembers being shunned by classmates at school who refused to use the same facilities as her, and how she was told she had demons inside of her that were making her feel depressed.
Suubi soon found help through Triumph Uganda Mental Health Support and Recovery Program, where she now works as a peer educator. "What we do is work to ensure that we first raise awareness," she says, "because there is no way we're going to support a person with a [psychosocial] disability when they are not aware, when they do not know how best to support themselves."
Part of the wisdom she gives to others revolves around one simple fact: you are not alone.
"When I joined Triumph … I got to learn that there were actually other people with the same disability. … You share and people are listening to you, and people are listening to your views and they respect your emotions, and there was no judgment."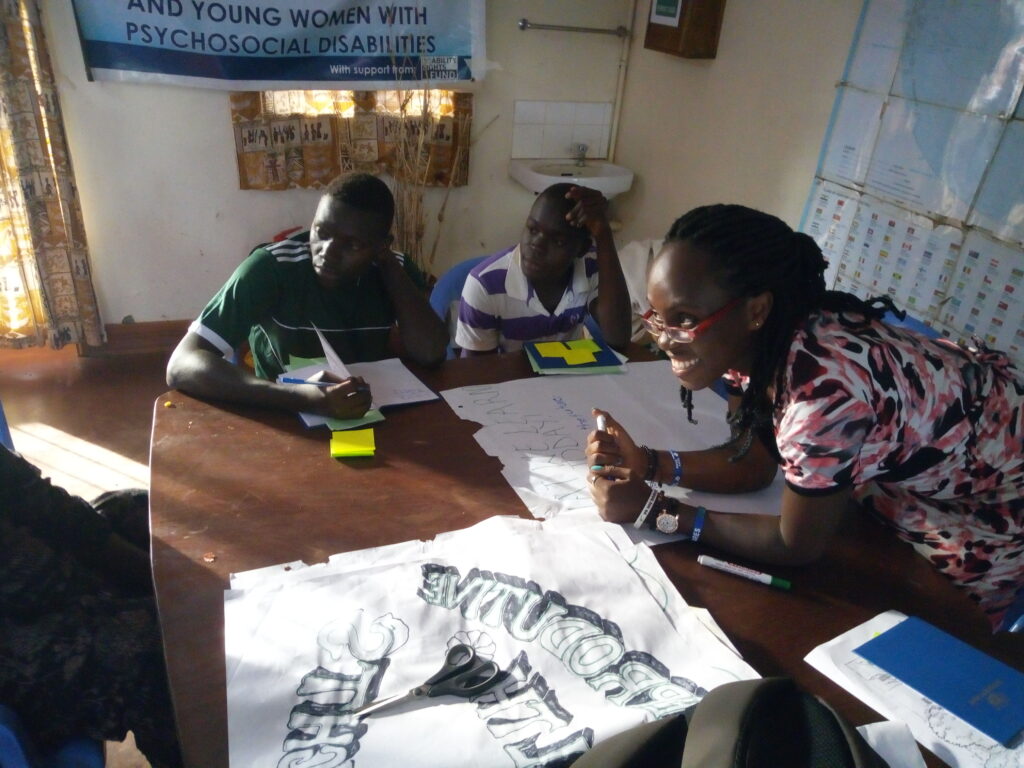 Suubi also has used her story to advocate for others living with psychosocial disabilities. She has been part of groups that work to help educate leaders about people with psychosocial disabilities. "I've really made sure that they will remember that there was an Esther in this training!" she says.
Both Andini and Suubi are doing their best to push back against stigmas surrounding psychosocial disabilities, especially as a means of preventing suicide. Andini hopes that people will begin to appreciate the struggles that people with psychosocial disabilities go through. "I hope that people will realize that mental health is really important, and I hope that many people will not be ashamed if they find out their friends or their family or maybe themselves have mental illness," she says. "We must speak up and prove that the stigmas are wrong and stop agreeing with the stigmas. They have to speak up." 
For suicide prevention resources in the United States, go to SpeakingOfSuicide.com/resources. Go here for resources outside the U.S.
Maureen Lynch is a contributing writer at the DJP and a senior at Assumption University in Worcester, Massachusetts. She is majoring in communications and media, with a minor in writing. Lynch is the editor and chief of Assumption's school newspaper, Le Provocateur, and the campus magazine, Valley Girl.
News
From the Global Frontlines of Disability Justice