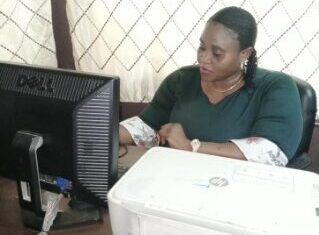 News
At the Intersection of Gender and Disability
Play audio version
Meet DJP Fellow Oluwabukolami Omolara Badmus
June 26, 2021
Oluwabukolami Omolara Badmus is a 33-year-old disability rights activist and feminist based in Lagos, Nigeria. She is both the financial secretary and Lagos state coordinator for the Lionheart Ability Leaders International Foundation (LALIF).
LALIF's mission is to generally "educate, enlighten, and empower the people on issues related to persons with disabilities, women and children, among others." Badmus is also an educator, teaching at a government/public high school.
Since 2019, part of LALIF's major organizational focus has been on people with Usher Syndrome, a condition that causes DeafBlindness. After realizing how little Nigerian citizens know about the syndrome and those who live with it, Badmus is now actively involved in educating people, from government officials to educators, about it.
Badmus was born in Ibadan in 1988. She grew up in Ondo State, but her native home is located in Osun State. She is part of a large family with nine other siblings. She had some familial support even though growing up as a person with a disability in her family came with challenges. "My mom has been a supportive pillar since I was, ever since I was born," says Badmus.
Growing up in Nigeria wasn't easy: "There is no proper infrastructure put in place for people living with disability." In her opinion, the government isn't making enough of an effort to be more socially inclusive of people with disabilities. "Though they say they're trying their best, but to me, their best has not been enough," she says. Badmus remains hopeful that conditions will improve.
During her senior year in high school in 2001, Abike Dabiri (a known journalist) visited her school and sparked her interest in journalism. She originally planned to study journalism at a university, but she was unable to due to financial constraints at the time. Badmus attended a teacher's college in the meantime.
Her activism roots, on the other hand, stemmed from her later days at University of Ibadan, where she studied education and political science. She also helped form the "Special Persons Club," an organization for students with disabilities. Badmus says, "My relationship with people, with other people living with disabilities has been … very very wonderful. Because, from … relating with them, I was able to know that, apart from the fact that … one word band[ed] us together, that this is the word 'disability' [brought] us together, we still have our individual differences."
Her passion for disability rights activism has endured over time. She places a particular focus on women with disabilities in regard to her advocacy work. Women with disabilities in Nigeria face a myriad of "intersectional" hurdles. For example, "If you look at the percentage of the employment rate of people living with disability, the women are really really lacking behind," says Badmus.
She is looking forward to honing her journalism skills and creating a documentary after her fellowship with the Disability Justice Project. She intends to share stories of people with DeafBlindness and women with disabilities – of both "their inclusion and exclusion."
Her positive impact on others continues to motivate her work. "Passion. My passion, the love, the smiles I see on people's faces, that is what has been inspiring me…"
News
From the Global Frontlines of Disability Justice